sK1 Team is proud announcing UniConvertor 1.1.5 release. UniConvertor 1.1.5 is based on the sK1 0.9.1 engine, which has been under development for the past year. UniConvertor 1.1.5 offers many changes over the previous version, supporting additional vector graphics file formats, improving performance and ease of use. Detailed review has been published recently and we would recommend to take a look on this article.
Some of the notable UniConvertor 1.1.5 features are:
New import/export filters for following file formats:
PLT - HPGL for cutting plotter files
DXF - Autocad Drawing Exchange Format
DST - Design format (Tajima)
PES - Embroidery file format (Brother)
EXP - Embroidery file format (Melco)
PCS - Design format (Pfaff home)
Built-in color management system
Alpha channel support as for solid colors and for bitmaps
Multiplatform font engine based on the Freetype library
Built-in PDF generator derived from ReportLab
Multiple bugfixes and improvements in almost all import/export filters
Desktop integration features:
MSI package for Windows platform
Stand-alone installation
Multiplatform GUI frontend which allows to skip using console mode
File manager (Nautilus, Dolphin, Konqueror, Windows Explorer etc.) integration
Special patch script to integrate external UniConvertor 1.1.5 into Inkscape 0.47/0.48 on Windows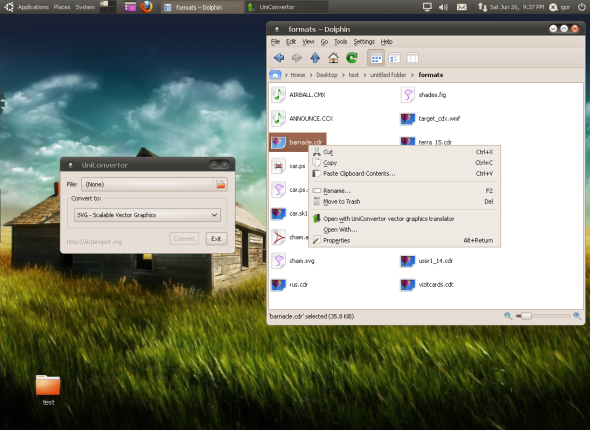 UniConvertor 1.1.5 packages are available for download on UniConvertor Download Page.